The RESCUE RANGERS have been assembled once again to help a friend in need. Their neighbor Mandy has lost her kitten, and she doesn't know where to begin looking. There have been some unusual sightings in town of mechanical bulldogs and robotic rats. Can the Rescue Rangers enemy, Fat Cat be up to his old tricks again?
The controls for the RESCUE RANGERS are quite Simple, but true mastery takes both practice and SKILL.
Manette Multidirectionnelle
Right and left
Pushing RIGHT and LEFT on the controller moves the character right or left. This works even when he is jumping or falling. Rember this! It is a very important feature.
Down
Press DOWN to make character duck down.
IF you press DOWN on the control pad while you are holding à box, you can « hide » in the box until an enemy touches it. If this happens, you will defeat that enemy and lose the box you were holding.
NOTE: this will not work against all enemies!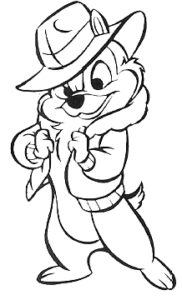 Bouton A
Press A to jump.
Press DOWN on the control pad and A together and you will jump down.
Bouton B
Press B to pick up objects.
Pressing B while holding objects allows you t0 throw them right or left.
You can throw objects upwards by pressing UP on the control pad when you press B.
Bouton Start
Pressing START pauses the game.
Bouton Select
Pressing SELECT Shows: which playe(s) have been selected, the amount of Flowers and Stars that have been collected, and how many characters are left for the player(s).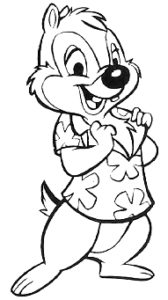 Each player starts with three hearts per character. When a player is damaged (loses à heart), he will be invulnerable for à moment. Take advantage of this time to get by à tough Situation.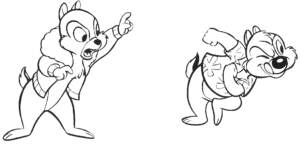 1. Insert the RESCUE RANGERS cartridge and turn on your Nintendo Entertainment System. The title page will appear and you may choose one or two players. If you wish to play only one character, you can choose to be either Chip or Dale. Press START to make your Selection.
2. The Story will begin here. Chip, Dale. Gadget, Monterey Jack and Zipper are discussing their new case. lo move the conversation along, press A. If you wish to move past the dialog. press START.
3. The game will begin at this point. and your character(s) will begin the first level.
The following items are found throughout the game:

Collect as many of these as you can! For every 50 flowers you collect, à 1-up Star appears.

For every 10 Stars collected, à 1-up Star appears.

When touched by à player, you get one extra character.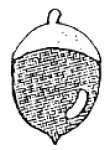 Gives an extra heart to the player.

Use these to hide in or throw towards enemies. Some enemies require more than one box 10 be defeated.

These can be used 10 Stack on top of each other to enable the player to jump higher than normal.

Player must throw these quickly!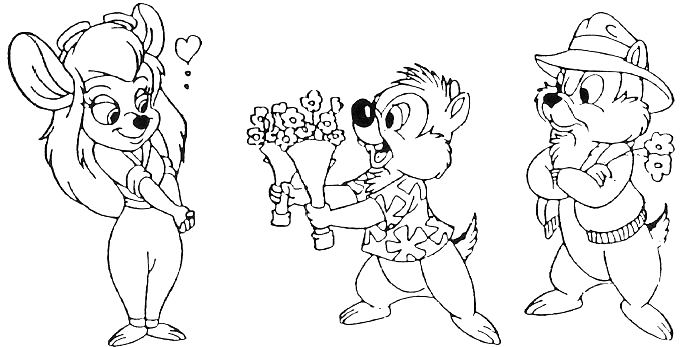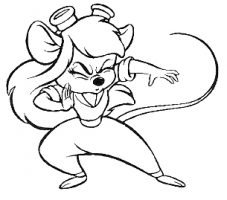 She scouts ahead and leaves inventions and clues 10 help the RESCUE RANGERS.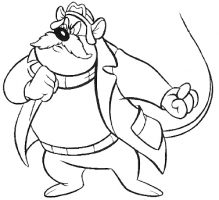 « Monty » helps Chip and Dale find secret doors and pathways.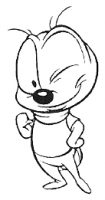 When Zipper flies ahead, no harm will come to the RESCUE RANGERS.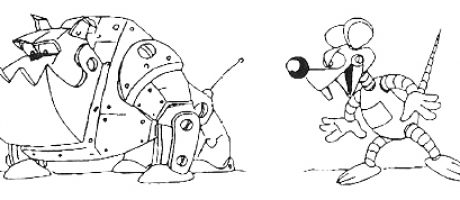 Mechanical Bulldogs and Robotic Rats
Don't get to close to these walking tin cans!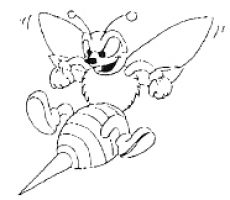 Beware of the Stinger on this bad bee.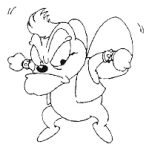 Buzzer's tempered cousin.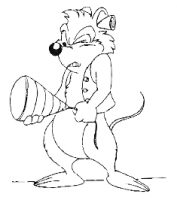 Watch out for his party favors.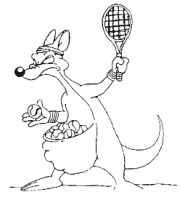 This kangaroo launches tennis balls.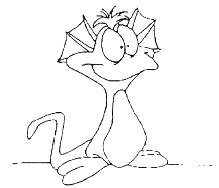 These crazy looking characters can turn into Chip or Dale.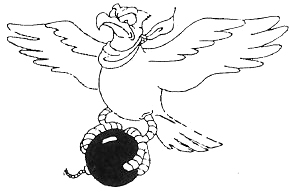 This bird of prey drops explosSive charges.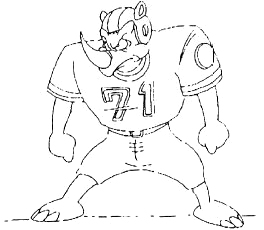 Look out for this charging brute.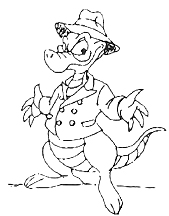 This nasty lizard throws his hat your way.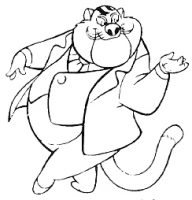 The big Boss Man in town.
Notice, scan & OCR : JeuxGameEtc
Mise en page : Badi