Thank you for selecting GUERRILLA WAR from SNK for your Nintendo
Entertainment System. For maximum enjoyment of your new game, please
read this booklet carefully and save it for future reference.
Your small island country is struggling against the cruel domination of an
evil dictator. As the guerrilla leader, you and your comrade must attempt to secretly land on the shore. But the dictator's military has taken prisoners, and they are waiting to attack you!
Control Pad
Bouton Start
Moves heroes in eight directions. Also controls direction of firing weapons.
Press to begin the game.
Press to pause while playing the game, then press again to resume playing.
A Button
Press to throw grenades and high-power exploding grenades. 
Press to enter and exit tanks.
B Button
Press to use machine gun and power-up items such as launcher and explosives.
Select Button
Press once to see the number of lives left and your score.
Press again to return to the game screen.
After you have pressed Start button, choices of Player 1 or Player 2 appear on the screen. Select one by moving Cursor or pressing Select button. Before pressing Start button, you can select the area or level of difficulty where you would like to begin by pressing Start button while pressing either A or B button.
To change the area and the level of difficulty press A or B button.
After making choices, press Start button to begin the game.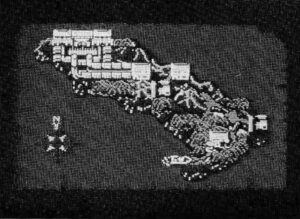 This is a shooting game. Two players can play simultaneously. Player I appears in blue, Player 2 in yellow.
Weapons that are available are machine gun and grenade. The object of the game is to destroy the enemy's Palace by saving prisoners and destroying
the enemy with your weapons.
The game has 10 areas. You can begin play at any area except the last area
(See Difficulty Selection).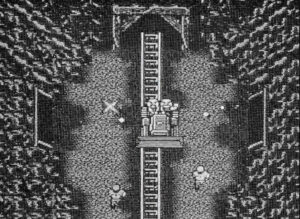 Your level of attack power can go up by getting power-up items after destroying red soldiers.
There is an enemy boss controlling each area. Watch out – he is waiting for you! You must eliminate him to go on to the next area.
You will die by getting hit from the enemy's bullets and you lose one life each time you die. Losing all your lives or clearing all areas means the game is over.
A tank with an IN sign will appear on the screen. You can get into the tank by
placing yourself on it then pressing the A button. When the tank is out of
gas, it flashes from green to red then explodes. Press the A button to get out
of the tank.
There are natives that have been captured by the enemy. They will show up in each area. When you save a prisoner, your score is increased by 1000 points. You will lose 500 points if you accidentally wipe out a prisoner.
Enemy soldiers all look the same, but they appear, move and attack differently from each other.


Yellow and red soldiers hide the power up items.
Enemy tanks look the same, but some fire flames and others can rain shells.
There are nine power-up items.
Red soldiers hide these items. When you have terminated a red soldier, the
items appear. Your offensive power increases by getting these items.

Can destroy objects, but cannot pierce them.
Flight distance is longer than that of a machine gun. Grenades can be used at the same time. Can be used until you die.

Can destroy and pierce obstacles. Flight distance is longer than that of the machine gun or a launcher (flight distance can go beyond the screen). This is effective until you die.

High-power exploding grenade
Area of exploding blast and area destroyed are bigger. This is effective until you die.

Machine gun bullets split 3 ways. This is effective until you die.

This has similar strength to launcher, but after it explodes the bullets split 3 ways.

After this item is picked up, it wipes out all enemies on the screen.
*Bonus stage: 
Play in this area is different from other areas because you are in a hand car. By using the Control Pad you can adjust your speed by pressing up or down. You also have a rope to save prisoners. Press A or B button.
Notice & scan : Riholay
Mise en page : Badi