Probe Entertainment
Acclaim Entertainment
For Deutch, Nederlands, Español or Italiano, check out directly the .PDF of the original instructions booklet.​
A chance remark inside the high-tech corridors of Wayne Industries lead to madness! Join Batman and Robin as they battle Two-Face and a strange new menace who calls himself The Riddler. With his saucy sidekicks Sugar and Spice, Two-Face has all the ingredients necessary to make mayhem! You'll see the Dark Knight battle all manner of monstrous malevolents, you'll see a night at the circus turn into a free-for-all with Batman in the center ring! The action takes you from the Gotham City subways to the inner recesses of Claw Island as you fight one fierce foe after another to insure that the legend of Batman lives on… forever!
Note: Towards means. pressing the CONTROL PAD in the direction of the opponent, Away means pressing it in the opposite direction.
Control Pad
Up
CAPE GLIDE
UP when Jumping/Falling
JUMPING
UP on Control Pad
SOMERSAULT/ FLIP
UP + LEFT or RIGHT on Control Pad
Down
CROUCH
DOWN on Control Pad
Left & Right
WALKING
Control Pad in desired direction
ROLL
Towards, Towards + A (Away, Away + A)
A Button
LOW KICK
A BUTTON
ROUNDHOUSE
Towards + A BUTTON
SWEEP
Down + A BUTTON
B Button
LOW PUNCH
B Button
HIGH PUNCH / GRAB ENEMY
Towards + B BUTTON 
or Away + B BUTTON
UPPERCUT
Down + B BUTTON
Select Button
BEFORE YOU ANSwER THE BAT-SIGNAL... LOADIng:

1. Make sure the power switch is OFF.
2. Insert the Batman™ Forever Game Pak as described in your NINTENDO® GAME BOY™ instruction manual.
3. Turn the power switch ON.
When the Batman™ Forever title screen appears, press the START BUTTON. You may then set the difficulty level. Choose between Easy, Medium and Hard play skill levels. Once you've chosen a skill level, press any button. You will then see the gadgets select screen. After selecting your gadgets, press the START BUTTON to begin game play.
Follow the story of Batman™ Forever, playing as Batman through 4 levels until Gotham City is free from the depredations of Two-Face, the Riddler and their horrible helpers.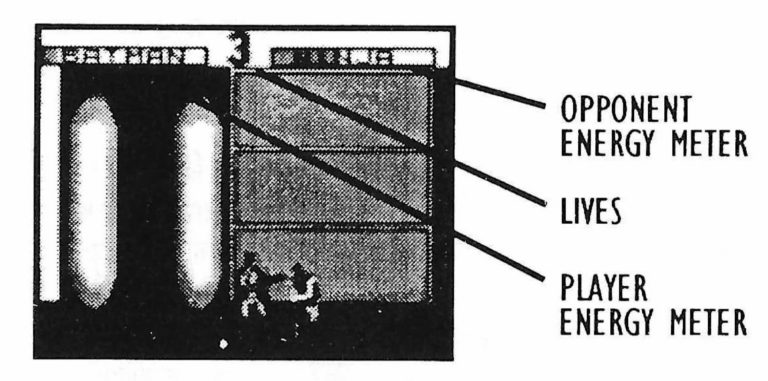 Energy bars
A player's energy appears as an energy bar at the top left of the screen. Players begin each level with a full energy bar. As a player sustains damage, the amount of energy remaining decreases. When the bar is empty, a player has lost all energy ans loses a life.
ENEMY ENERGY BARS
The health of the last enemy hit by a player is displayed in an energy bar at the top right of the screen. This allows a player to see how much damage an enemy has taken, and how great a threat he or she still poses. When an enemy's health is completely depleted, that enemy is finished and the energy bar will go to empty. If a player strikes several enemies in a row, only the last one hit will have his or her energy displayed.
Lives
Once a player has sustained enough damage to lose a life, the player may elect to continue play by using one of six Continues.
Scoring/ Level statistics
At the end of each level, percentages are given for the amount of pickups a player has recovered, the number of villains subdued, and for the percentage of secret areas a player has managed to uncover in the level. If you get 100% in any level, you will earn a significant bonus.
For Gadget Controls, please see the Gadgets Chart on pages 9 and 10.
standard Gadgets
Batman has three default gadgets. These gadgets do not need to be selected by a player before entering a level.
Optional Gadgets
At the beginning of each level, a player may choose to swap in one of the Optional gadgets displayed in the Batcomputer. Different gadgets are available at different levels. To select an Optional Gadget, follow the instructions under Selecting Gadgets.

Blueprint gadget
In each level of the game, Batman must search for pieces of gadget blueprints stolen from the Batcave by the Riddler. If Batman succeeds in finding all four blueprints to a particular gadget, that gadget will be added to a player's Optional Gadgets lists in the Batcomputer at the end of the level. Try to find and collect these spectacular prototype gadgets!
Selecting gadgets
There are many gadgets available in Batman™ Forever, but only five gadgets can be carried at one time. The good news is that the supply of gadgets is unlimited, allowing them to be used as often as needed. A player chooses gadgets at the beginning of each level. When you get to the Gadgets Select screen on the Batcomputer, you will see three default gadget icons displayed, along with tow optional gadgets. the first three gadgets are along with two optional gadgets. The first three gadgets are always available, while any one of the remaining two gadgets may be swapped in from the optional Gadgets list. To swap in an optional gadget, first highlight it with the Control Pad, then press the B BUTTON. Once a player has chosen gadgets for a particular level, pressing the START BUTTON will bring the player right into the next level. 


Fired at angle of 90° (Towards, Down + B)
Fired at angle of 45° (Down, Towards + B)
Fired straight ahead (Away, Towards + A)

Tap B while blocking (SELECT)
Batman's optional gadgets

Down to Towards while HOLDING B



Towards, Towards, Towards + B




Towards, Towards, Towards + A
BATMAN™ FOREVER consists of 4 levels. These levels follow the story of Batman and Robin's battle against Two-Face and The Riddler, and must be completed sequentlally. The four story levels of BATMAN™ FOREVER consists of both main areas and secret hidden areas. To gain the highest score successfully complete the game, a player must find and access all main and secret areas, and take advantage of the pickups and other game secrets that are available in each. Below is a description of various levels Batman must complete to spare Gotham City from the terror of Two-face and wrath of The Riddler!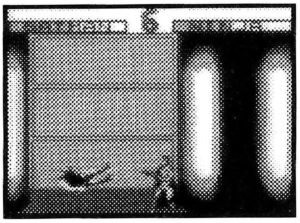 Second bank of Gotham City
Two-Face is trying to rob the Second Bank of Gotham City. They've taken hostages which you must free before you can thwart the robbery.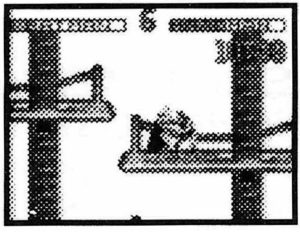 The circus
Two-Face and a gang of criminal clowns threaten to blow up the circus! Battle from the center ring to the high wire, as time counts down. You've got to reach the rooftop and disarm the bomb before your chances read 00! Luckily there are extra time pickups available, so don't give up, even if time is tight!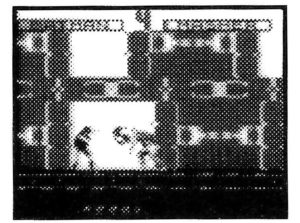 Abandoned subway station
As Two-Face flees the Ritz Gotham, he's pursued by Batman and Robin— into the subway! The fight goes from station platform to subway car roof, leading eventually right onto the tracks, where you must avoir oncoming trains while battling Two-Face's thugs. the grappling hook comes in handy here!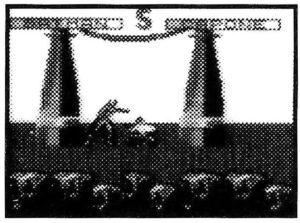 Claw Island
At last the battle comes home to Ed Nigma! He's kidnapped dr. Chase Meridian, and now awaits Batman and Robin in his lair on Clas Island! The duo battle their way inside, and the battle continues as an elevator brings them closer to their foes. Suddenly Batman and Robin are thrust into a holographic nightmare world, a physical and mental test they must pass— or Dr. Chase Meridian will perish! At last, our heroes arrive at the Claw Island throne room, where Two-Face is ready to rumbler, and The Riddler has a surprise in store! Keep on battling, the end is in sight!
Notice, scan : Le-fav
Mise en page : Badi